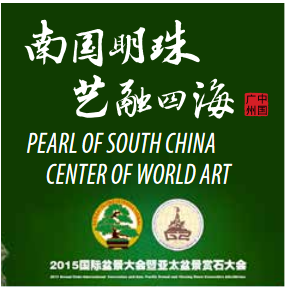 The Infinity of Bonsai & Viewing Stones; A Cultural Voyage from Canton to the World
The BCI 2016 Conference was a joint affair with the Asia-Pacific Bonsai and Viewing Stone Association (ASPAC). This major event was organized by BCI,
ASPAC, and the People's Government of Guangzhou Municipality with additionalsupport from six significant sponsors and four co-organizers. This was a grand
affair because of the broad-based support from organization such as theAdministration of Forestry and Gardening of Guangzhou Municipality, the Chinese
Society of Landscape Architecture, the Guangzhou Penjing Association, BCI-China Program, and the Guangdong Provincial Viewing Stone Association. The
strong financial and logistical support of the municipal government and societiescontributed to the success of this joint convention.
Check out the Photo Galleries from the Annual Board Meeting, Exhibits, Events,
Photos courtesy Gudrun Benz, Rosemarie Voelker, Budi Sulistyo and Helen Su.