Now Available in North America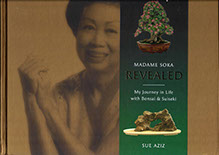 Madame Soka Revealed, My Journey in Life with Bonsai and Suiseki
Privately published by Sue Aziz and Family, Jakarta
ISBN : 979165560X
Description: 295 p, illustrated, 24 x 31 cm
Bibliography: Includes bibliographical references (p. 294-295)
Language: English
Information on Indonesian stone appreciation is largely intertwined with published materials on bonsai. Thus, there are very few books solely on stones from this country. This work is a beautifully produced book that includes 100 pages devoted to stones.
Mrs. Aziz is a long-standing, international leader in bonsai and stone appreciation in Indonesia. Her book features many of her best trees and stones while celebrating her life's devotion to tree and stone appreciation.
The first two-thirds is devoted to bonsai. Mrs. Aziz' interest in stones has been strongly influences by Japanese suiseki practices and this is reflected in the introductory text. Chinese and Korean stones are also mentioned.
The real value of this volume comes from the full-page color images of the stones.Nearly all are from different regions of Indonesia and the majority are handsomely displayed in metal or ceramic trays, often with white sand.
The carved wood bases reflect a mixture of Japanese, Chinese, and Indonesian styles. Most of the stones are dark, ranging from jet black to varying shades of grays and browns. There are beautiful smooth water-worn stones along with abstract and rugged shaped stones. This is testimony to the fact that Indonesia has a wealth of beautiful natural stones that can support a thriving stone appreciation community. This book is a high quality product that comes with an attractive slip case.
For International orders e-mail office@bonsai-bci.com