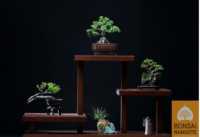 Convention to be held Agriculture College Ground
The Bonsai Namaste Convention will spread over 10 Acres for 4 Days full of activities.
The Bonsai Exhibition will be in league with International Bonsai Standards.
Exhibition is open for all artists and groups in India for displaying their beautiful bonsai creations.
The space for display will be free of cost to all registered participants.
Free Workshops and demonstrations under World Class Experts for registered attendees.
Enjoy delicious food from a variety of stalls in a large food arena at the Convention.