Kamogawa River Stone
Collected over 100 years ago
Sam and Kathy Edge Collection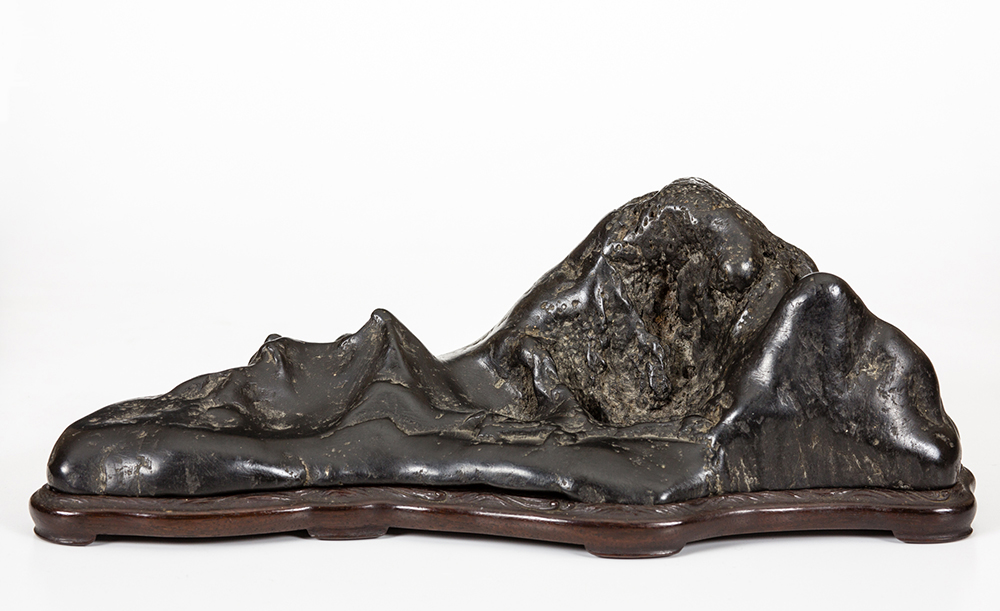 This Kamogawa River Stone measures 28 x 10 x 12.7cm and has a beautiful patina as evidenced from the photograph. We first saw this stone on a web site owned by a suiseki dealer in Kyoto, Japan.
For some reason it didn't quite catch our attention at first. However a few months later, Dr. Tom Elias and his wife Hiromi Nakaoji were in Japan and posted a photo on their blog taken from a different angle than that of the web site photo. We were taken back by its beauty. What came immediately to mind was a similar stone owned by Rai San'yo many decades ago.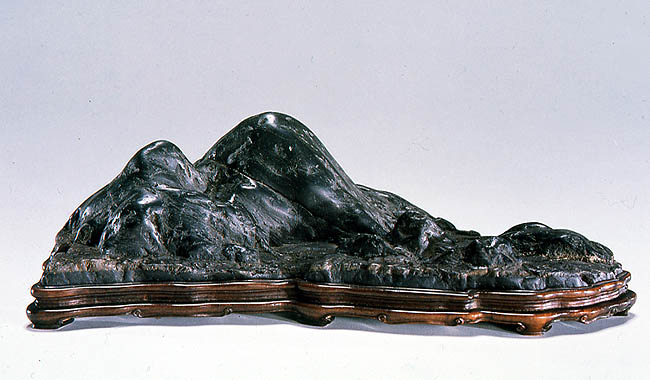 Rai San' yo — Yamato Murayama ("Mountains of the Kanto Plain") 27.0 x 10.0 x 8.0 cm, Photograph © Matsurra Arishige 2013-15
I contacted the owner of the web site and inquired as to the availability of the stone. After a few e-mail exchanges, it was on an airplane heading to the U.S. It is a memorable stone in many ways but perhaps the most important is that it is a tribute to my mother who had just passed away a few days before we acquired the stone.
Our Kamogawa River stone is strong, beautiful, peaceful and inspiring; the very attributes of my mother. She made a huge impact upon my life and on those around her. Her life represents what this stone resembles – dependable, deep and unwavering. Offering to me solace when it is most required.
We recall the first time we saw Yamato Murayama and how it inspired our imagination. To see the soaring mountain peaks, the distant valley and the harmony of each element of the stone. We believe our stone evokes those same feelings. The well balanced and almost perfectly placed peak, the other accompanying mountains descending into rolling hills all the while a community lives in the valley nestled up against the backdrop of this soaring mountain range.
A good stone, like a great Mother, provides us with a lifetime of memories which can be recalled and enjoyed even in their absence.
— Sam and Kathy Edge