Bonsai&Stone Appreciation 2014 Q2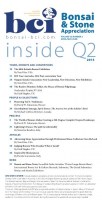 Description
In this issue, BCI director Kath Hughes and accredited bonsai judge Malcolm Hughes have written the first of a three part presentation on judging bonsai. Look for part two in an upcoming issue. The third part will be a judging form that will help clubs evaluate bonsai trees in competition.
BCI president Tom Elias recently attended Japan's premier bonsai show, the Kokufu Bonsai Ten and reports on this prestigious exhibition and the suiseki show that coincided with this event.
Kath Hughes reports on the Noelanders Trophy in Belgium, a bonsai event that continues to grow in stature with each occurrence.
David Fukumoto has stated in previous articles that in Hawaii, they consider all sides of a bonsai composition so that its display is not limited only to the formal front. He demonstrates this masterfully by creating a 360 degree planting with three beautiful and unique views that evoke Hawaii's exotic landscapes.
Massimo Bandera shows us how nature and the aesthetic Shibusa inspired him and his team to turn a vigorous formal upright into an informal composition possessing distinction and character.
Danilo Scursatone ponders the role of masterpiece trees in bonsai art and helps us understand that if an art form is to evolve and progress, masterpieces should be considered a source of inspiration, not imitation.
Mike McIntyre's review of a new book on Kemin Hu's stone collection, lovingly photographed by acclaimed photographer Jonathan Singer, surveys the happy coincidences and the talented people that resulted in this exceptional production.
To inspire us to look for our own stones to collect, Tom Elias profiles Ken McLeod, the adventurous stone purveyor of American stones and takes us on a collecting trip where we learn a few collecting tips.