Mary River Stone with Purple Gidgee Base
Lindsay Bebb Collection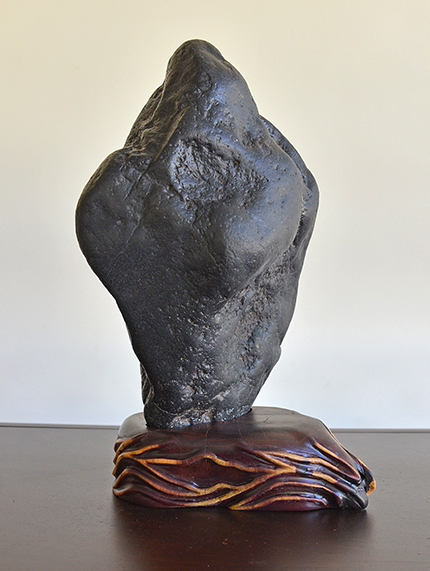 Mary River Stone, Country of origin: Australia. Location: Mary River, Queensland. Mineral composition: Not known. Dimensions: 15 x 29 x 12 cm. Base carved by Lindsay Bebb
Australian Purple Gidgee, Acacia crombiei,
from which the base was carved.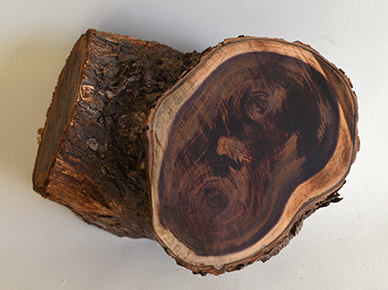 This Queensland stone is all natural and measures 29cm high x 14.5cm wide x 10.5cm deep. It was collected by me on a stone hunting trip to a section of the Mary River, just North of Brisbane. It was typically a dirty grey colour when collected but came up to this rich dark colour after wire brush cleaning. I do not know the type of stone but it is very dense. Clearly a figure stone.
The daiza was made by me from a raw log of Australian Purple Gidgee, Acacia crombiei, a quite rare tree growing in just two small isolated populations in Central Queensland. When freshly cut the heartwood is olive green in colour but after drying out it turns purple. The timber is so hard it ruined the blade on one chisel I used to help carve out the stone recess. It is extremely difficult to fashion. Most of the work was done with a Samurai ®blade, Dremel tool, small rasps and lots and lots of hand sanding. The cream colour pattern utilises the tree's sap wood. On the additional photo you can see the log the piece was cut from, with the cream sap wood and dense purple heartwood. The finish is clear oil.
The idea behind the pattern using the sap wood was to have the figure stone appearing to float on clouds. The more I look at this stone the more impressed and absorbed I am by it.
About the Collector
Lindsay Bebb is a well know international Bonsai Demonstrator who has also become absorbed in stone collecting. He has been interested in stones for both bonsai and viewing for a long time but only began seriously collecting viewing stones beginning with an intensive stone trip to China in 2005, he has been steadily building a collection of quality stones from Japan, China, Italy and North America and is now spending time focussing on stones from Australia. Several of his stones have won international recognition.