Il Volo, Palombino Stone
Luciana Queirolo Collection, Italy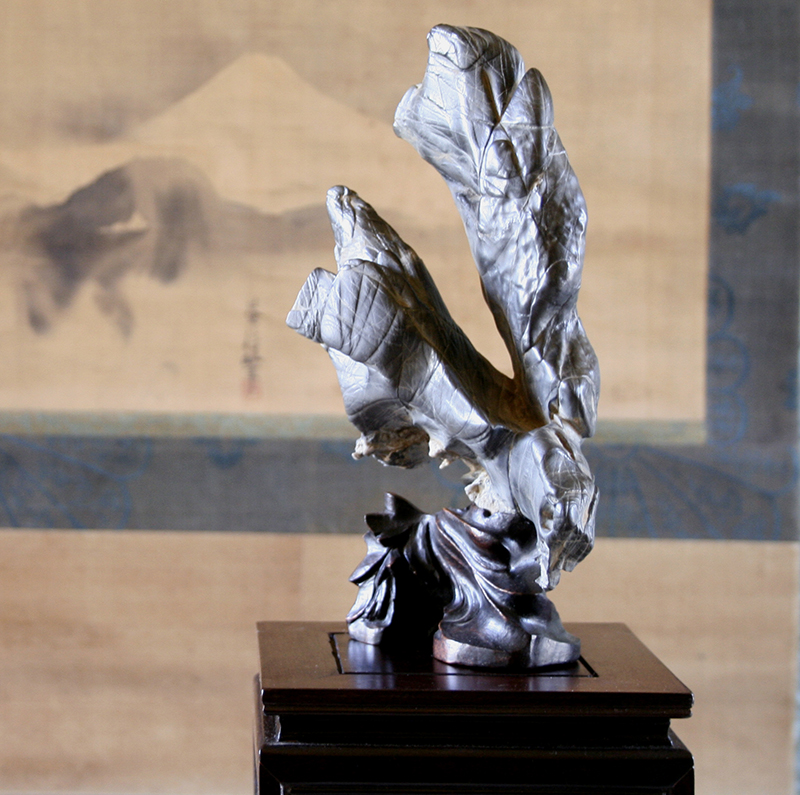 This month's Stone of the Month is an Italian stone from Luciana Queirolo's collection. Luciana, a pioneer of viewing stone appreciation in Italy, exhibited her first stones in 1988 and was a founding member and president of Unici di Liguria, the first suiseki club in Italy and in Europe, founded in 1991. Liguria, Italy, is the region where the now famous Palombino stones are found. They are valued for their luster, color, patina and evocative shapes, many expressing the mountainous Italian landscape and coastline.

This month's stone is a very expressive Ligurian Palombino stone that brings to mind the forms of wings, suggesting the feeling of flight.
Luciana comments, "The stone I sent, which I titled il volo, is the very first stone I presented on a formal base. My stones all have a story, but it is a story that is personal; from harvesting, cleaning, the interpretation that affects the very construction of daiza (or base), because at one angle rather than another, you can make a human figure (for example), stand still, or make her walk."
Here are some views of this stone that show the potential for the best side to present. From this analysis, exploration and evaluation, Luciana chose the view that best expresses the feeling of flight.