BCI Awards
For over thirty years, BCI has recognized outstanding achievers and contributors to the world of bonsai and stone appreciation. Annual worldwide awards given to individuals by Bonsai Clubs International include the Artist, Writer and Photographer Award, and the Distinguished Service Award. More recently, BCI initiated a new level of awards, the Award of Excellence medal that is given by individual BCI board members. Presented primarily at local and regional meetings and exhibitions, they serve to recognize emerging talent, and excellent trees and stones.
2015 Certificates of Appreciation
Two certificates of appreciation were awarded at the 2015 BCI convention in Guangzhou. The first one was presented to Rosemarie Voelker of Gulf Breeze, Florida for her leadership in managing the social media BCI Face Book page. Rosemarie is an excellent photographer and frequently travels worldwide to bonsai events. Her many postings on the BCI Facebook page have resulted in greatly increasing the number of visitors and raising the awareness of BCI worldwide.
The second certificate of appreciation was awarded to Mr. Chen Chang of Guangzhou, China. Mr. Chang is President of the Panyu Chu Kong Steel Pipe Co., Ltd. and also President of the Guangzhou Penjing Association. Mr. Chang was a major supporter of the joint BCI/ASPAC convention in Guangzhou, a leader in the BCI-China program, and a major collector and artist of Chinese penjing.
2015 Meritorious Service Award
This award is given to an individual or club that has contributed significantly to BCI over many years. Thomas S. Elias, President of BCI was the recipient this year in recognition of his service as president during the last three years and for his long-term contributions to the BCI Bonsai Magazine and the Bonsai & Stone Appreciation Magazine. As president, Tom implemented a board-approved annual budget along with realistic income projections. He also worked to increase income through auctions, donations, and sales of books. A surplus of income over expenses in BCI operations in the last three years has greatly improved BCI's financial position. Tom worked with others to improve the BCI website and make better use of social media to promote BCI. He, along with several board members have succeeded in reversing the decline in membership and is growing BCI individual and club memberships in several areas of the world, especially in Asia where the largest number of bonsai hobbyists are located. Tom was also the recipient of BCI's Writer, Photographer and Artist Award in 2001. He has been a regular contributor since 1999 of over 25 articles plus several books reviews and news items to Bonsai Magazine and its successor Bonsai & Stone Appreciation Magazine.
2015 BCI Artist, Writer and Photographer Award
The recipient of this award is Canadian bonsai enthusiast Dr. Michael Collins McIntyre for his many excellent articles in BCI Bonsai & Stone Appreciation Magazine over the last three years.
2016 BCI Artist, Writer and Photographer Award
The recipient of this award is South African bonsai enthusiast and pioneer Dr. Tobie Kleynhans for his well-documented articles about bonsai in south Africa in BCI Bonsai & Stone Appreciation Magazine over the last few years.
2017 BCI Artist, Writer and Photographer Award
The recipient of this award is bonsai enthusiast Dr. Sujata Bhat for her excellent photographs that she has contributed for articles in BCI Bonsai & Stone Appreciation Magazine over the last few years.

A Newsletter Especially for Clubs
The BCI Club Newsletter is a special publication distributed by email to BCI Member Clubs and its content is all about clubs and their activities. This is where clubs can share news, special accomplishments and achievements, ideas and activities for meetings, and tell stories about their outstanding members, collecting trips and more. Each club appoints a BCI Ambassador to be the official contact with BCI. Ambassadors keep BCI and the local club up to date on activities, programs and other news.
Bonsai and viewing stone clubs everywhere are challenged to promote their art form or hobby, attract and retain members, and improve their collections, knowledge and skill. Let's learn from each other so that more bonsai and stone enthusiasts all over the world can find new ways of expanding their experiences and enjoying these unique art forms.
Current Issue of BCI Club Newsletter
Past Issues of BCI Club Newsletter
Submit a story, event or article to BCI Club Newsletter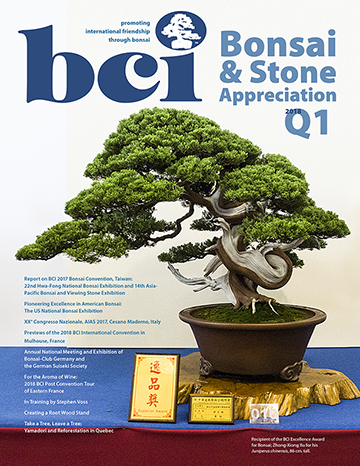 About Q1 2018 Issue
The feature article in this issue is a report on the 2017 BCI International Convention in Taiwan. The theme expressed before the event—"Explore the Beauty & Culture of Taiwan"—was an understatement. For those who have never visited Taiwan, words alone could not have prepared them for the experience. Conference Chairman Tsang-Shing Chen and his organizing committees, volunteers and supporters, delivered a convention of amazing scope. Bonsai was first introduced to Taiwan during the period of Japanese colonization over a hundred years ago, but it was in the '80s and in the '90s that bonsai masters there created and established a distinctive Taiwanese character in their bonsai.
| | | |
| --- | --- | --- |
| Members: View magazine online | | Purchase Copies |
Free Registration
Follow the activities of BCI by registering to this website. All you need is a valid e-mail address to register as a Guest. Create your personal profile and become part of BCI's international community. You can choose to upgrade your membership or unsubscribe to BCI messages at any time. The information you provide is for BCI internal use only and will not be shared with any other parties.
Paid Membership
BCI members have a choice of 4 paid membership plans. Online, Individual, Club and Life. Details and costs for each plans vary, but all include a subscription to BCI Bonsai & Stone Appreciation Magazine. This glossy, high quality publication reports on bonsai and stone activities around the world, features stories on artists and collectors, as well as informative articles on bonsai methods, processes, and species. Stone collectors will enjoy coverage of stones from every geological area on earth.
BCI members are given first chance to register for the BCI Annual Convention held in different parts of the world and opportunities to participate in photo contests and online auctions of viewing stones.
Renewing your subscription is easy if you follow some simple steps.
Log in to the BCI Member Log In box on the top right corner of every page with your member user ID and your password. If you don't know this information, click on Forgot User Name or Forgot Password and follow the prompts.
Once logged in look for Manage My Membership on the top left of the main menu. Here there are choices to update your contact information and Subscription. Make sure your email and postal addresses are up to date to receive automatic notifications before the expiry date of your membership.
If you run into a problem, use the Help Desk to send us an email. We are here to help.
Now that our membership database is online and interactive, there are a few things to keep in mind:
Automated Renewal and Expiry notifications to the email address on file
Members can now sign up for a Club membership and a personal membership using the same email address

If you have an existing club and a personal membership and would like to manage it under one email address and username please let us know and we can adjust the membership

If you cannot log on for any reason, contact us to reset your log in and assign you a temporary password. Do not create a new account.

Don't have email? No problem. Contact our business office at 440-871-4797 to renew by phone or by mail.
Help Desk
Use the Help Desk link in the page footer to open a Case Ticket if you need assistance with any aspect of this website. BCI is governed by a group of volunteers in different time zones across the globe and managed by a small staff, so please allow a few days for a response. If your request or question is urgent, use the phone numbers provided on About BCI/Officers.
Ready to Join? Perhaps you still have some questions?
You can join online and manage your membership by creating an account and entering your profile information. Payment is by PayPal, a very secure method if you have or are willing to create a PayPal account.
If you wish to pay by e-mail, by telephone or send a check by post, we can help you. Contact the BCI Business Office for further instructions.
We will be pleased to answer any question you may have about BCI and its activities. Use the Contact Us link in the page footer.