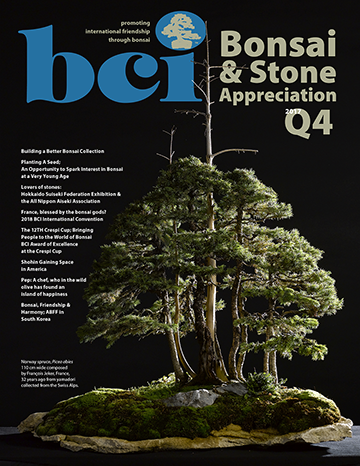 View Online Today!
Researchers across Canada and the USA tracked 1.3 million people in 30 cities over 11 years and found that those who have more trees and vegetation around where they lived had an 8 to 12 per cent reduced risk of dying compared to those who didn't. They also found that having green space around your home has greater benefit than weekly trips to the park. What a good reason to add more bonsai to your collection or to enlarge your bonsai garden!
But don't get carried away. Too many trees can be a problem. In Principles of Bonsai Design, by bonsai artist David De Groot, one chapter made a big impression on me. It was full of practical and inspired advice for anyone starting or maintaining a bonsai collection. David kindly agreed to update this chapter with BCI readers in mind, and the product is the lead article in this issue.
After I sent Carlos Morales the first draft of his article on the inaugural US National Shohin Bonsai Exhibition, we lost touch with him when Puerto Rico was devastated by Hurricane Maria. A big thank you to Louise Lester, one of the event organizers, who helped finish the article. We were relieved when we eventually heard that Carlos was OK.
| | | |
| --- | --- | --- |
| Members: View magazine online | | Purchase Copies |

Order the BCI 2015 Photo Album for your library.
Thank you to all BCI members who participated in Best or BCI 2015 Photo Competition. All entries were prepared for final selection where judges from around the world chose the Competition Finalists to be exhibited at the grand BCI Convention in Guangzhou, China in 2015.
Limited Quantities Available!
Best of BCI 2015: Viewing Stones and Bonsai from BCI Members' Collections

Hard cover, 200 pages, full color, with Dust Jacket and Sleeve, limited edition.
250 mm x 247 mm/9.84 x 9.72 inches
Cost: $59.00
Publication Date, April 15, 2016
Single copy: Full retail price

Participants in contest who order 2 or 3 copies: 20% discount to same address


Drop shipments of 100 copies or more at the time of printing: 30% discount to same address


BCI Clubs who orders 6 or more copies at one time: 20% discount to same address


Wholesale (for resale by legitimate businesses): 50% discount on orders of 6 or more copies per order

Shipping cost are extra. For personalized service or more information, send an email to


Larry Stephan, Business Manager

.
• If you have any questions about the contest, contact Competition Committee Chair: Budi Sulistyo.