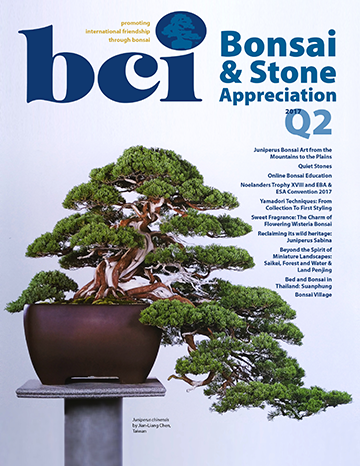 View Online Today!
There have been many times throughout my bonsai journey when it was difficult to create better bonsai trees no matter how hard I tried. These were periods of stagnation and set backs, largely due to the difficulty, if not impossibility, of finding good teachers and mentors in my region.
Another reason for my lack of progress is not spending enough time practising. An old Papua New Guinea proverb states, "Knowledge is rumor until it lives in the muscle."
Knowing about the proper wiring techniques is one thing, properly wiring a tree and making it look beautiful is another. We learn how to apply wire by watching others, whether it is a formal lecture or a casual demonstration.
Applying this knowledge to our bonsai requires hours of mindful practise so that we can experience for ourselves all the nuances and strategies for using wire to set and bend branches. Another ancient proverb states, "I hear and I forget, I see and I remember, I do and I understand." The two proverbs are very similar; they both argue for the value of learning by doing. However, achieving excellence in any endeavour requires a balance of the two; learning and doing. In this issue of Bonsai & Stone Appreciation we take care of the first step by presenting a variety of articles by noted professionals that will contribute to your knowledge of bonsai and help you create better trees. This is your opportunity to read, study, get some inexpensive starter trees and practise, practise, practise.

Order the BCI 2015 Photo Album for your library.
Thank you to all BCI members who participated in Best or BCI 2015 Photo Competition. All entries were prepared for final selection where judges from around the world chose the Competition Finalists to be exhibited at the grand BCI Convention in Guangzhou, China in 2015.
Limited Quantities Available!
Best of BCI 2015: Viewing Stones and Bonsai from BCI Members' Collections

Hard cover, 200 pages, full color, with Dust Jacket and Sleeve, limited edition.
250 mm x 247 mm/9.84 x 9.72 inches
Cost: $59.00
Publication Date, April 15, 2016
Single copy: Full retail price

Participants in contest who order 2 or 3 copies: 20% discount to same address


Drop shipments of 100 copies or more at the time of printing: 30% discount to same address


BCI Clubs who orders 6 or more copies at one time: 20% discount to same address


Wholesale (for resale by legitimate businesses): 50% discount on orders of 6 or more copies per order

Shipping cost are extra. For personalized service or more information, send an email to


Larry Stephan, Business Manager

.
• If you have any questions about the contest, contact Competition Committee Chair: Budi Sulistyo.