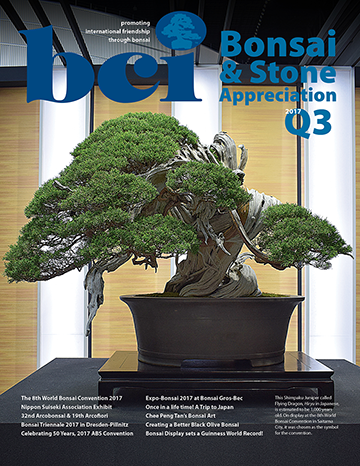 View Online Today!
The true beauty of bonsai as an industry, is that it attracts hobbyists,artists and professionals alike. It attracts not only those who areinterested in plants, but also people who pursue collateral hobbies and artforms such as viewing stones, pottery and carpentry. It attracts people from many different parts of the world and from every walk of life.
While some of these pursuits require solitary work,there is a huge social component to Bonsai and Stone appreciation. It is at the annual exhibit, expo or convention, where bonsai hermits become social, gregarious, fun-loving people eager to share their experiences with one another.
These events, made possible by volunteer organizers and workers, allow many of us to exhibit our work and enjoy a moment of recognition for a tree or stone we proudly present. Whether the event is a local club show or an international convention that attracts the best of the best, this issue is a celebration of the exhibits and conventions that feature the bestwork of hobbyists and artists.
The 8th World Bonsai Convention, the prestigious quadrennial organized by WBFF (World Bonsai Friendship Federation),exceeded all expectations.
If you weren't there, we have three reports for you. Nikunj Parekh, Jyoti Parekh and Sujata Bhat report on the convention and present some of the bonsaion exhibit. Gudrun Benz reports on the Nippon Suiseki Association'sviewing stones exhibit held at the same time. For Alan Jabsfrom Australia, the convention was the highlight of his once-in-a-lifetime tour of Japan. I think you'll enjoy his point of view and enthusiasm.
| | | |
| --- | --- | --- |
| Members: Login to view magazine online | | Purchase Copies |

Order the BCI 2015 Photo Album for your library.
Thank you to all BCI members who participated in Best or BCI 2015 Photo Competition. All entries were prepared for final selection where judges from around the world chose the Competition Finalists to be exhibited at the grand BCI Convention in Guangzhou, China in 2015.
Limited Quantities Available!
Best of BCI 2015: Viewing Stones and Bonsai from BCI Members' Collections

Hard cover, 200 pages, full color, with Dust Jacket and Sleeve, limited edition.
250 mm x 247 mm/9.84 x 9.72 inches
Cost: $59.00
Publication Date, April 15, 2016
Single copy: Full retail price

Participants in contest who order 2 or 3 copies: 20% discount to same address


Drop shipments of 100 copies or more at the time of printing: 30% discount to same address


BCI Clubs who orders 6 or more copies at one time: 20% discount to same address


Wholesale (for resale by legitimate businesses): 50% discount on orders of 6 or more copies per order

Shipping cost are extra. For personalized service or more information, send an email to


Larry Stephan, Business Manager

.
• If you have any questions about the contest, contact Competition Committee Chair: Budi Sulistyo.